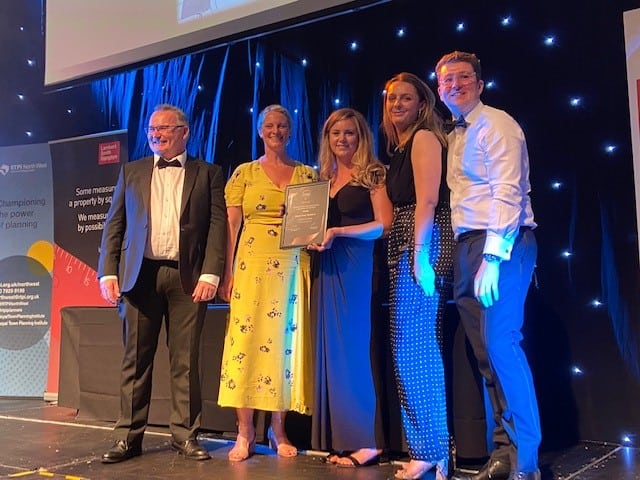 P4, with Seddon Homes won the award for Planning Excellence in Planning for Communities (small schemes of 50 units or less) at the North West RTPI Awards on 24 June. P4 director, Gillian Worden, alongside colleagues Tom O'Kane and Ally Gavin collected the award with Michael Johnson, Land Director at Seddon Homes, and Mandy Oakden from Chadkirk Consulting.
Marple Dale comprised redundant care home buildings within an operational care home site which were surplus to requirements as they no longer met current care standards. The buildings, originally constructed as a TB hospital in the 1920s, had been closed and lain vacant for some time, although the newer care home buildings were to remain operational.
We advised the care operator on the development potential for the vacant buildings and surrounding land which is located within the Green Belt and then led an application for the successful developer, Seddon Homes, proposing new homes that integrate with the
operational care home.
The feedback received from the judges was very positive and complimentary of the scheme, stating:
This is a site which clearly has a complicated and constrained planning context, but the skill and tenacity of the planning consultants to help shape a successful (and integrated) new residential development is clear. The site's location, in the Green Belt, offers challenges, but couple this with the requirements of the adjacent nursing home – including a need to retain 24-hour access – and the necessity for detailed negotiations with several adjacent property owners of a private access route, meant that this scheme is an exemplar of where detail counts. It was clearly not a one-size-fits-all approach.
P4 Planning advised throughout the process, from land assembly and sale, through to working with Seddon Homes to achieve the very highest quality scheme. It is clear from speaking with those involved in the process, that open and continuous dialogue with local people and the care home was fundamental to ensuring this small scheme was developed effectively. That is not to say that there was not resistance to the scheme, but the planning process allowed for the developer and their planning consultants to work with the community in a very personal and proactive way (well beyond the statutory minima) to overcome objection and concerns.
The judges' site visit showcased the scheme's quality with eight different house types and well-designed public realm and spaces exhibits. The eventual package of measures, including new access routes and publicly accessible and connected green spaces, were all delivered alongside much needed family homes. The new homes integrate well with the care home and the other neighbouring residential properties. The prime example of this is the refurbishment of the care homes much prized Rose Garden for the enjoyment of both new and existing residents.
This is a scheme that clearly demonstrates the worth of proactive and thoughtful town planning. A worthy winner of this category.
Well done team!
Back to news