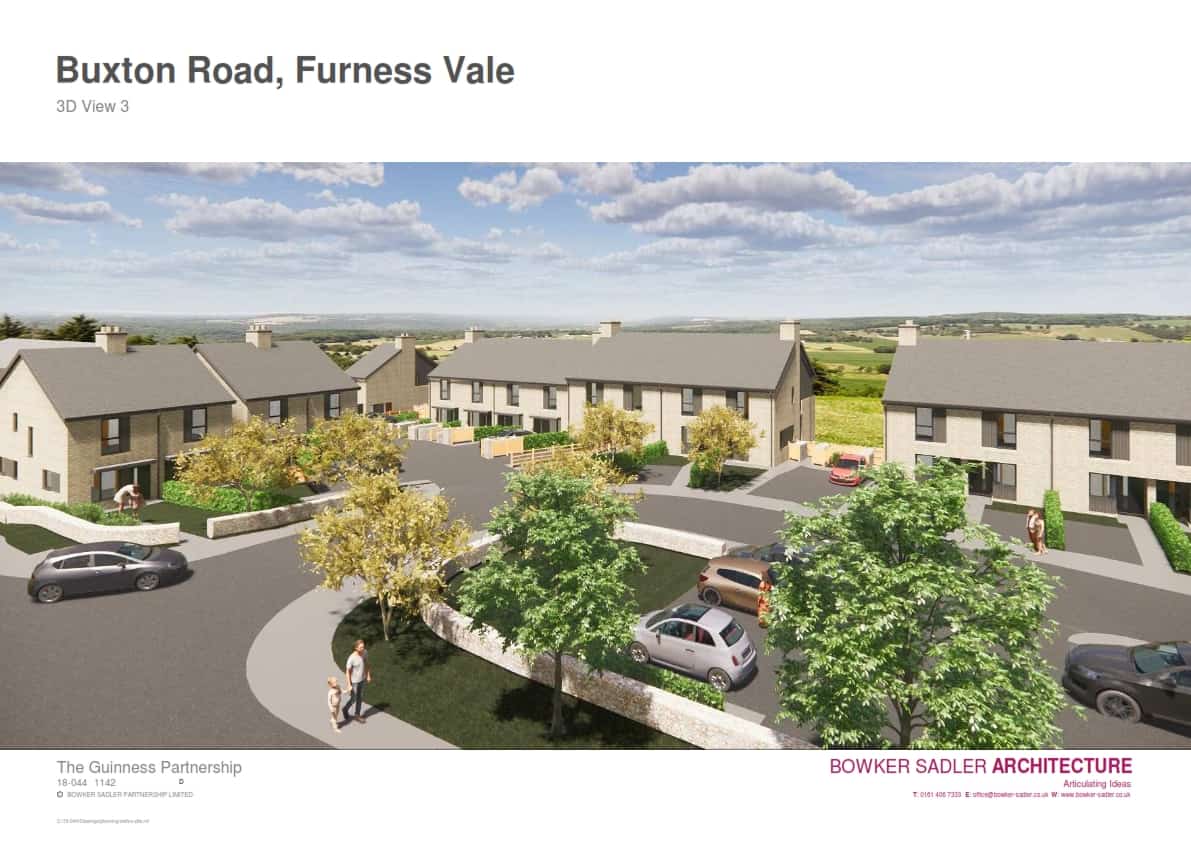 Affordable housing provider The Guinness Partnership has submitted a full planning application to High Peak Borough Council for 39 affordable dwellings in Furness Vale; a development designed by Bowker Sadler Architects with P4 Planning preparing the Planning Statement and providing planning advice.
The proposed development will be built on land between Buxton Road and the Manchester to Buxton railway line and will provide an entirely affordable scheme of 2 – 3 bed family homes.  19 will be available on an affordable rent scheme with the remaining 20 offered as affordable shared ownership.
The layout has been designed to reflect the character of Furness Vale, which grew as a linear settlement along Buxton Road and will contain a mix of dwellings arranged in single, two, three and four dwelling blocks, helping to retain landscape views. The 1.12ha site was recently released from the Green Belt and allocated for residential development in the adopted development plan. .
The scheme's design overcomes and utilises the slope of the land, with homes to be constructed at split level (two storeys at the front and three storeys at the rear), which will provide additional living space while maximising the impressive outlook over the River Goyt valley.
Says Colin Leith, Director at Bowker Sadler Architects: "We wanted to ensure the design of these new homes was modern and attractive, whilst staying sympathetic to the local character of Furness Vale.  It is important that the scheme retains a strong sense of place and contributes positively to the character and appearance of its surroundings."
Thomas O'Kane, Senior Planner at P4 Planning adds: "This is our second application in High Peak with Guinness which, if approved, will provide much needed affordable housing for Furness Vale. The development will support new jobs and the additional households will generate increased spend in the local area which benefits from a wide range of facilities and transport links."
Back to news