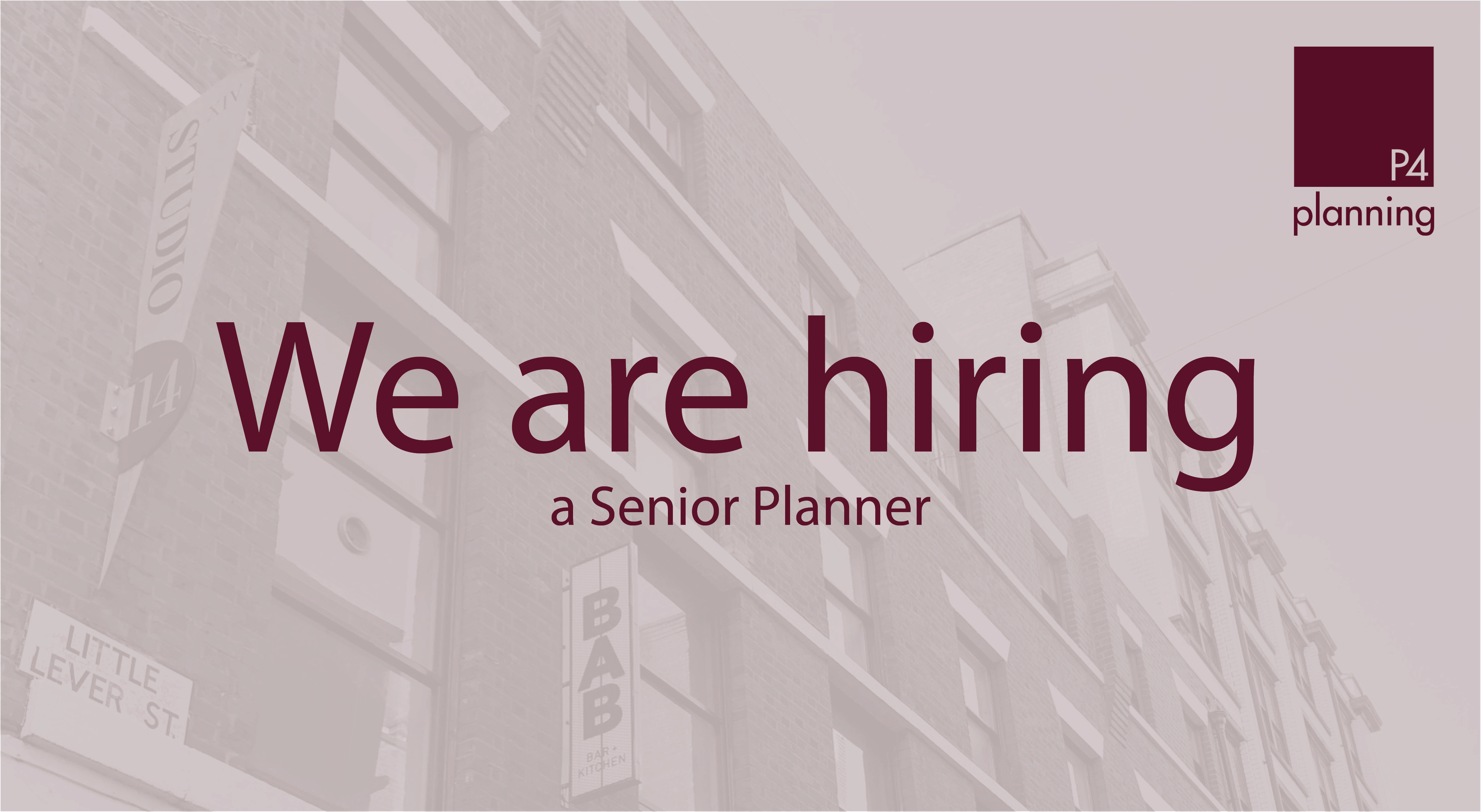 P4 Planning is an independent planning consultancy based in Manchester's Northern Quarter that helps its clients navigate the complex town planning system.
We apply a proactive approach and deliver pragmatic advice to a broad range of clients across many property sectors, but focus entirely on the planning system, which is our specific area of expertise.
We are looking for a senior planner that will be able to add to our existing team, which has a strong track record of securing challenging planning consents and influencing emerging policies. Working with our wide range of clients across a broad portfolio, this is an opportunity to help develop our services across a variety of projects.
In return, we will support your continued development and provide access to working with a great team of experts and clients we love to work with.  We will support you to develop yourself providing opportunities to train and continue your professional CPD.
What your role will look like
You will be a vital fee earner, playing a central role in accurately driving planning projects forward to meet agreed client objectives.
You will work proactively with a strong work ethic and tempo, acting with integrity and honesty as you deliver customer focussed solutions.
You will input to planning strategies and draft planning advice, showing strong commercial awareness, through providing high-quality professional advice in letters, planning statements, and other reports.
You will project manage work for clients and coordinate planning submissions, working closely with clients and the wider project team.
You will be expected to be confident and able to represent P4 at meetings, taking accurate notes and be proactive in addressing actions.
You will be trusted to positively work as part of the team, manage your workload, and assist in all aspects of promoting the business and developing your learning through CPD.
What we are looking for
Chartered member of the Royal Town Planning Institute;
Relevant experience of circa 4-7 years working as a private sector planner or consultant;
The ability to manage your own time and meet challenging deadlines;
Excellent knowledge, understanding and application of current and emerging planning legislation;
Strong written and oral communication skills and the ability to build good client and team relationships with clear attention to detail.
What is in it for you?
A competitive salary
Discretionary bonus
25 days holiday plus bank holidays
Contributory pension
Flexible working options
Competitive benefits including payment of professional subscriptions; company issue laptop/surface pro and mobile phone allowance
You will be working with a growing, ambitious firm with passion and dedication for clients who trust us as part of their team.  You will have the opportunity to develop your career and step up into project management.  We will provide the support you need to do just that.
To apply, please provide your CV with a covering letter to info@p4planning.co.uk by 21st May 2021.
If you would like to have a confidential chat regarding the role, please get in touch with Gillian Worden on 07803 779 470.
About P4 Planning Limited
At P4 Planning, we develop bespoke strategies to help deliver high-quality planning solutions for individual projects. Common across all our work is the recognition that thorough research and early collaborative discussion within the project team is critical to identify options and clarify direction. Fresh thinking, breaking routine and sense checks are integrated in our values and work ethos to drive forward pragmatic and hard-working solutions. We recognise the importance of the legacy we leave and our role in helping shape the built environment.
Through consistently providing a proactive and pragmatic consultancy service for our clients, P4 Planning benefits from a high degree of repeat business and a steady stream of new enquiries. Key to our success is our collaborative approach to projects.
As a small business, we can afford to be selective with our client base and build long-standing relationships based on trust and shared values. Although some competitors offer a multi-disciplinary approach in-house, we have made the conscious decision to remain independent and focus our expertise and skills purely on helping navigate the complex planning system. A key strength is our ability to take a convoluted set of issues and pull out the critical planning considerations and priorities – to apply judgement that comes with experience, necessary to deliver on objectives across all stages of the planning system.
Although specialist, rarely do we work alone. The nature of planning usually means that multiple parties and disciplines are involved, and our skills lie in bringing teams together to help seek the optimum outcome in each case.
Our staff have considerable experience and, for a small growing team, P4 clearly punches above its weight in terms of challenging projects, breadth of client base and areas of practice – a fact recognised by Insider which shortlisted us for Planning Team of 2020 in their NW Property awards as the only independent SME alongside corporate giants CBRE, Avison Young and Deloitte, and our recent shortlisting for Small Planning Consultancy of the Year at the 2021 RTPI Planning Awards.
Back to news