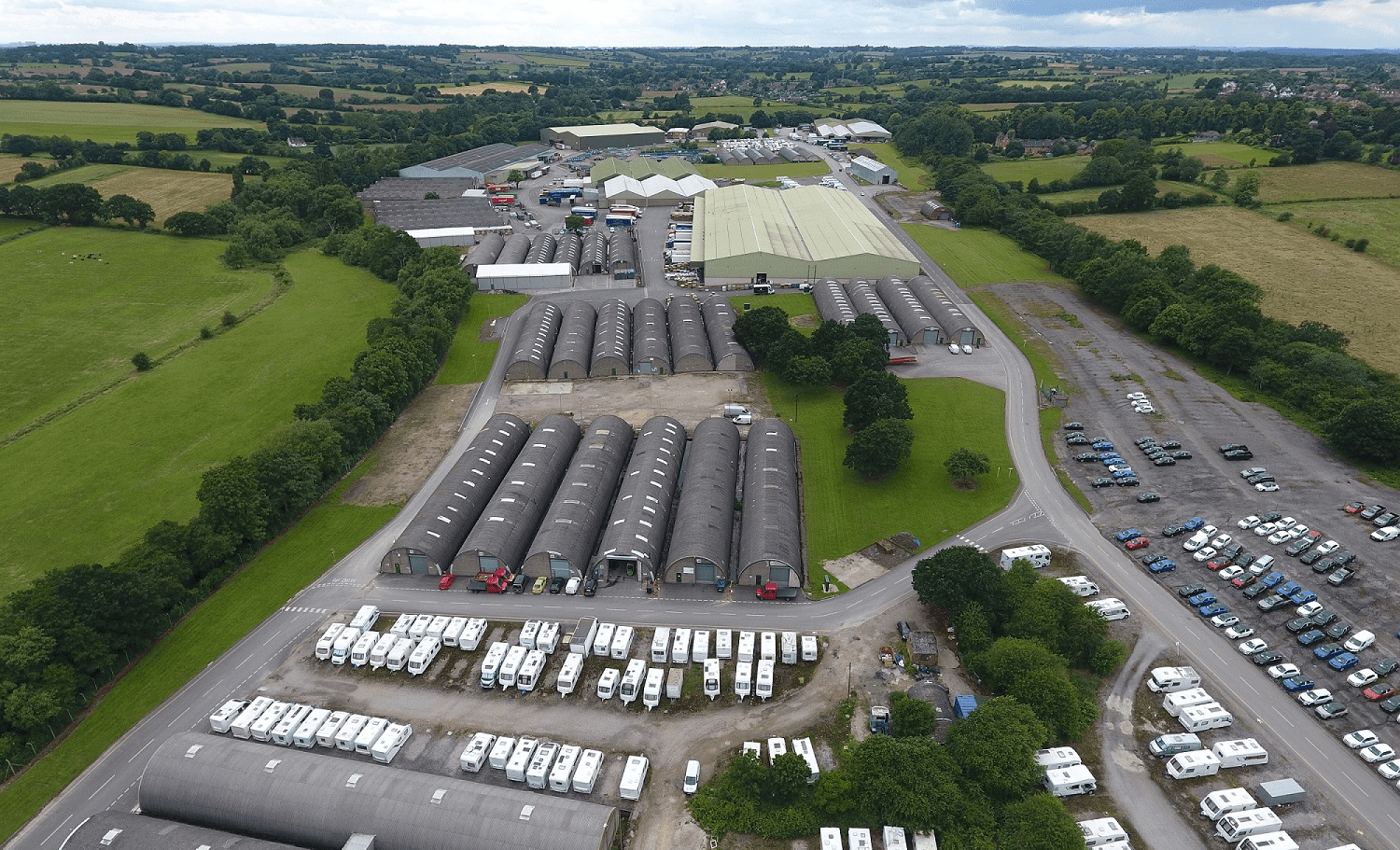 Achieving sustainable development is the core objective running through the heart of the planning system: to deliver economic, social, and environmental sustainability, in all its varied forms.
When it comes to environmental sustainability, momentum is finally beginning to gather pace as the sector recognises the critical importance of achieving carbon zero.
With many of our clients working in industrial and logistics, we're asking how this important agenda – one of many challenges facing developers navigating the planning system – is impacting their work and what challenges it presents.
WHAT ARE THE CHALLENGES?
For some, the industrial and logistics sector is associated with building big 'boxes' on greenfield sites and the inevitable question arises: how can proposals that build on undeveloped land and utilise vast amounts of concrete become inherently more sustainable?
They tend to be located outside settlement boundaries and often generate high numbers of vehicle movements, at all times of the day, particularly from HGVs.
Another challenge is that many large-scale logistic schemes are built on a speculative basis, with tenants only signed up once development is coming out of the ground. When it's not possible to build something perfectly tailored to its end user, it can mean further adaptations are needed later down the line, using more resources.
BOX TICKING AT PLANNING
The planning system receives its fair share of negative press for having too much red tape, being too process-driven and with too much box ticking.
But if we want to see the change needed to achieve carbon zero developments, the planning system – and its processes – plays a vital role. Through policies and conditions, local planning authorities put in place mechanisms to ensure development proposals meet certain targets for the environment.
Two key examples are outlined below.
Biodiversity Net Gain
It will soon become a legal requirement that schemes will have to achieve a net gain in biodiversity.
The Biodiversity Net Gain assessment dovetails with the planning system, requiring developers to demonstrate measurable improvements for biodiversity. No mean feat, particularly when your proposal is on greenfield land.
BREEAM building assessments
Up-to-date local plans include policies requiring sustainability measures to be embedded into new development.
Many use the international BREEAM assessment which is, essentially, a comprehensive tick-box based assessment. Indeed, more and more local planning policies, such as in Manchester, require new buildings to achieve BREEAM Very Good or Excellent accreditations.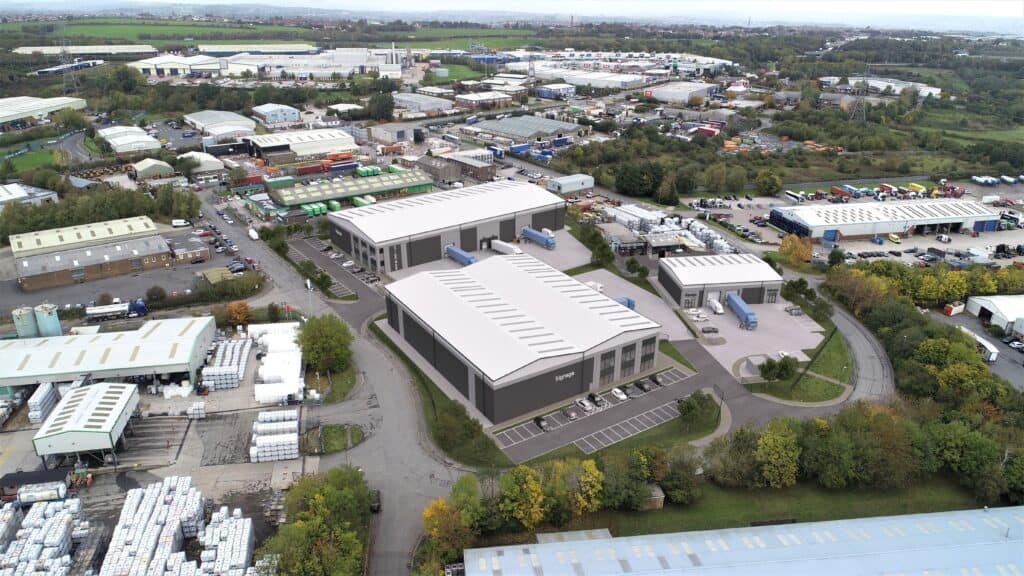 HOW IS THE SECTOR MAKING CHANGES?
The sector is responding by minimising the negative impact of construction and proactively delivering a positive impact.
Minimising the negative
ENERGY EFFICIENCIES
Modern designs and construction methods can create energy efficient buildings, meaning less energy needed to operate, and a smaller carbon footprint.
RETROFITTING OLD BUILDINGS
Another approach is to buy up old industrial sites, refurbish the existing buildings and reuse high embodied carbon materials like existing concrete bases.
Reusing and repurposing the existing built form carries an inherent sustainability, minimising the need for new materials to be produced whilst also avoiding old materials going to landfill.
BROWNFIELD SITES
Whether a scheme proposes new build or retrofit, using previously development land can minimise the impact on biodiversity particularly, though brownfield sites can still hold biodiversity value if they've been vacant for some time.
SUSTAINABLE LOCATIONS
Siting industrial development close to existing transport hubs and built up areas can minimise travel, reducing carbon emissions.
Multi-modal interchanges, like at Port Salford, Greater Manchester, enable logistics companies to reduce reliance on the road network by transferring from boat to rail.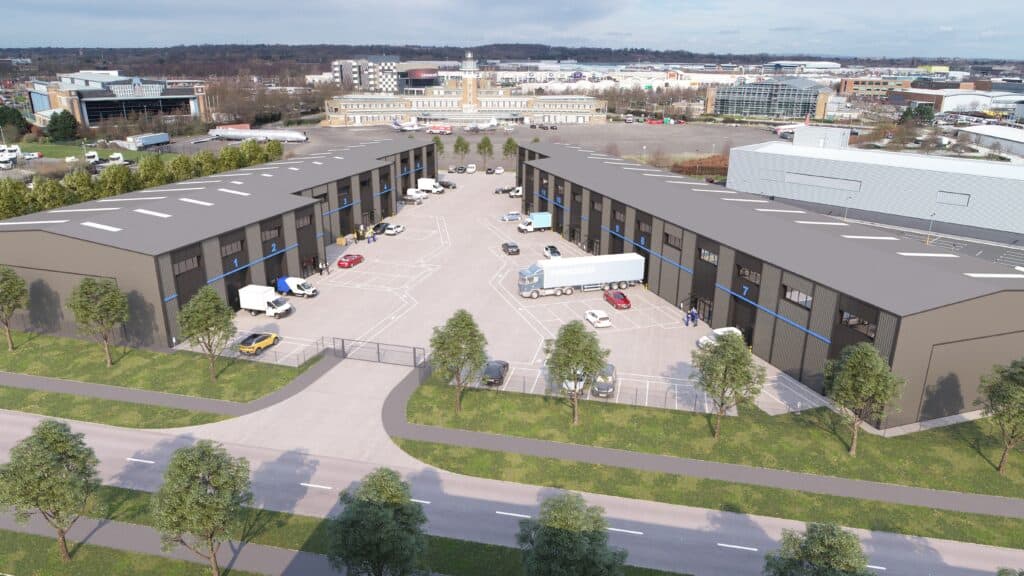 Delivering the positive
ON-SITE ENERGY GENERATION
Whether a scheme installs photovoltaics or simply future-proofs a site with the infrastructure needed to install PVs at a later date, this is an obvious opportunity for industrial units with typically large plan roofs.
PVs don't have to be positioned on roofs, of course. The seemingly unusable land around buildings is often well suited for PV panels.
With industrial sites generating high levels of vehicle movements, EV infrastructure is another obvious opportunity. The sub-ground infrastructure needed for electric vehicle charging points can be installed, even if the end user is not yet known. When technology changes so fast, it's pragmatic as well as cost effective to hold off installing the charging units until a user is signed up. Pragmatism aside, we are seeing this becoming more of a requirement at the outset in some local authorities.
BIODIVERSITY ENHANCEMENT
Achieving a measurable improvement in biodiversity is one important way of boosting a site's sustainability credentials. And on industrial sites there are more opportunities than you might expect.
At West Hallam, Derbyshire, our client is doubling up on both on-site generation and biodiversity net gains by proposing two sites of PV panels to help decarbonise existing and future operations. What's more, during periods of excess supply, power generated can be exported to the local grid, so the panels will act as a source of revenue to further investment at their site. Underneath the panels, a wildflower meadow will be created.
Tree planting around a site's perimeter has the dual benefit of screening a proposal whilst potentially boosting a site's biodiversity value. Importantly, the choice of tree planting (typically local, deciduous varieties rather than evergreen) matters.
HOW ARE YOU GETTING ON?
The above measures are just some of the aspects a local planning officer will be looking closely for, in order to weigh up whether your proposal constitutes sustainable development.
As we march towards the goal of carbon zero development, we're interested to hear how you are getting on in your efforts to address the climate crisis:
• What opportunities have you found to make 'typical' industrial schemes more environmentally friendly? Can photovoltaics adequately make up for the use of high-embodied carbon materials and the loss of greenfield sites?
• Whilst the reuse of existing buildings is inherently sustainable, what is the reality like when trying to retrofit green credentials into a dated industrial building?
• How easy or difficult are you finding the standards of BREEAM and Biodiversity Net Gain to meet?
With the sustainability of your scheme being scrutinised like never before, it's important to be aware of what criteria your scheme will be assessed against, so that you can design sustainable features in right at the start of the process.
Whether or not it feels like a lot of ticking boxes, it's a process that has to be done, and one which we can guide you through.
Back to news